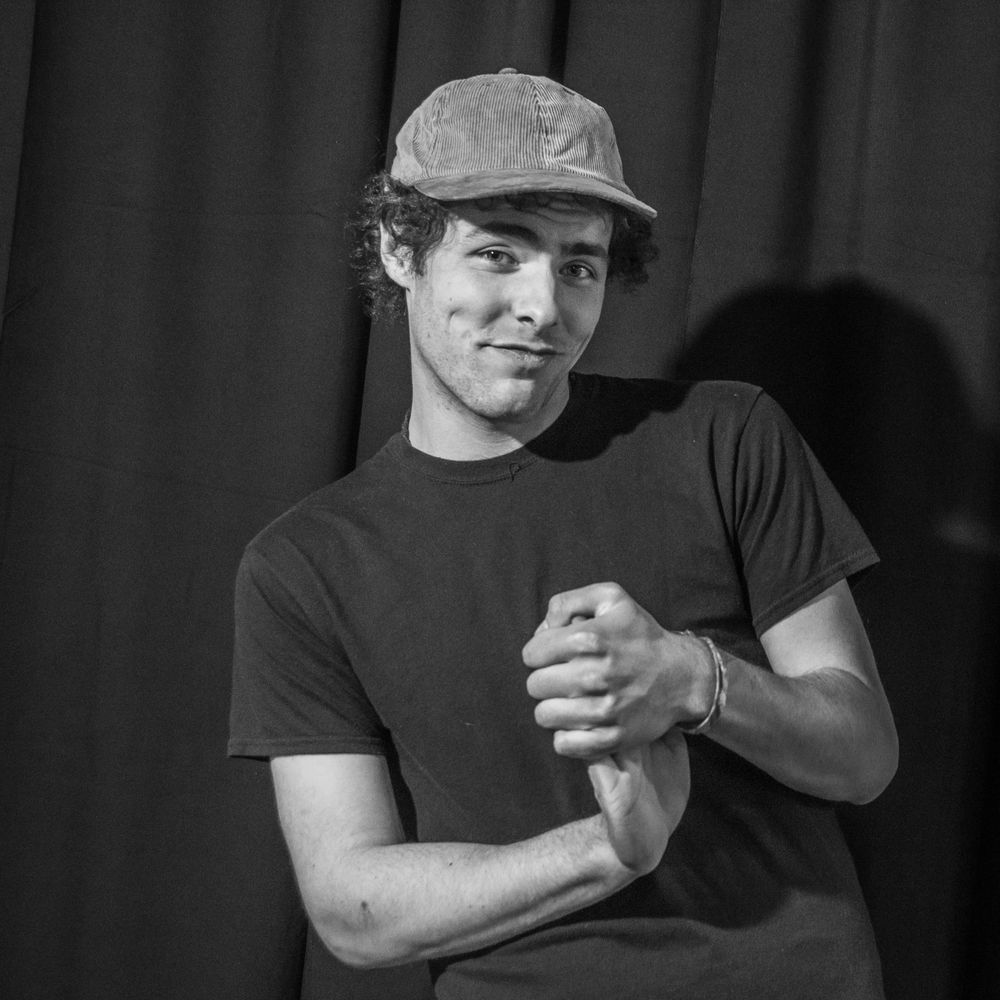 Press Kit
Karl Bertrand is an American songwriter, guitarist, and producer most frequently found living in the foothills of the Adirondack mountains of upstate New York. He grew up there, in Saratoga Springs; a town with a rich history of folk music coupled with a rowdy night-life. Now thirty, Karl's been performing in the bars, venues, and hotels around his hometown for a decade. His songwriting spans a vast array of genres from bluegrass to jazz to rock to punk and everything in between. As far as subject matter goes, Karl's songs range in a similar manner; sometimes reflecting notes of humor and joy while other times diving into societal struggles or else expressing some facet of love. His musical sensibilities frequently wander into forms of improvisation, carried forward from a rooted experience performing jazz, bluegrass, and traditional selections within the jam tradition. He is also a silly goose.
In his twenties, Karl was most active musically as a founding member, guitarist, vocalist, and songwriter for Saratoga Springs, NY jam rock band, Let's Be Leonard, from 2014 to 2022. During that time, he performed on stages all across the country as the band toured from coast to coast in their eclectic pink and blue school bus. They released music that was featured in Relix Magazine and their success culminated in festival appearances at Adirondack Independence Music Festival in New York, Mile of Music in Appleton, Wisconsin, and High Sierra Music Festival in California. The group dissolved in early 2022.
Throughout the years, Karl has developed an almost constant songwriting practice. He often has fresh material to share as he regularly performs in the Capital Region and lower Adirondacks. He frequently performs solo as well as in duos, trios, and larger full band arrangements. He also continues to perform sporadically with the 8-piece Grateful Dead tribute, Let's Be Dead. In addition to live performances, Karl produces his own recordings and has released a growing number of them under his name; eleven albums since 2019.
Karl has spent his last four winters teaching skiing and snowboarding at Gore Mountain in North Creek, NY. He's looking forward to a new adventure this coming winter teaching in Aspen, CO and performing within the Roaring Fork valley. For more information please visit www.karl-bertrand.com .
"

When you blend the essence of a singer-songwriter with the sonic exploration of ambient music, you arrive at Emotion Plane." - Lucas Garrett
"

Take it or leave it – Karl isn't here to sell you anything. He's here to tell an honest story of the human experience." - Drew Wardle